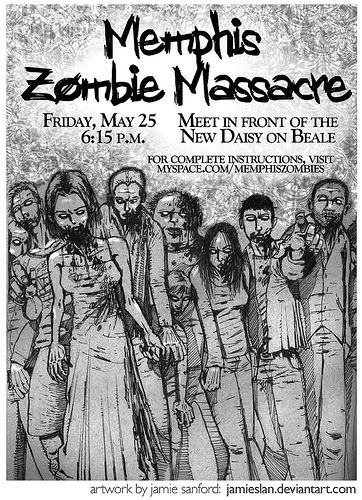 Upcoming events:
If you haven't heard about the Memphis Zombie March, they may have already eaten your anchorman. If you are that last lonely fast-moving soul on Earth, here's some philosophical background on why the not-quite-dead-not-quite-alive feel it necessary to wander aimfully through the streets of downtown Memphis in search of brains, beers and condos.



On Friday and Saturday night, May 26-27


What:

CITYCitycity, a multi-media celebration of Memphis art & music



When:

Friday, May 25 thru Sunday, May 27

Opening festivities Fri & Sat nights from 7 - 11 pm



Where:

Monty Shane Gallery in the heart of Cooper-Young

Co-sponsored by Denise Parkinson, city council candidate for Dist. 5 and the Southern Girls Rock & Roll Camp (www.sgrrc.org)

For more info contact: 276-0346



Finally, as promised, here are the details on the next (last?) two Fairgrounds redevelopment meetings:


Thursday, May 31, 2007


Orange Mound Senior Services Center
2590 Park Avenue
Memphis, TN 38114
6:00 p.m. - 7:30 p.m.



Thursday, June 14, 2007


First Congregational Church
1000 S. Cooper Street
Memphis, TN 38104
6:00 p.m. - 7:30 p.m.

Labels: art, downtown, Memphis Zombie March, politics